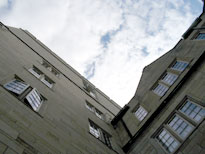 This website is a work in progress. At present, it features mostly material from the webmistress's personal collection (in other words, from 1998 and later). However, the goal of the site is to be interesting and relevant to all Collinsites, from 1924 to present. Submissions from visitors are welcome and necessary to achieve this goal.
Here is a "wish list" of materials I am especially seeking at present. Other materials are always welcome. To inquire about making a submission, please contact me.
Visual art depicting Collins: paintings, sketches, etc.
Short prose about Collins
Titles of Orientation books prior to 1992
News clippings, especially pre-1998
Personal accounts of the Collins blackout of October 2000
Poetry about Collins
Alumni stories - What was Collins like when you lived there? What were the students talking about? What activities were you involved in? Please share your anecdotes with us.
To those who have already contributed: thank you!
---