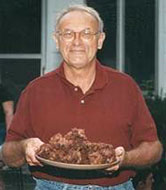 Food. It's an essential part of the Collins experience. Whether our college memories include dress-up dinners with Ralph and Dottie or listening to Jim Beeson belt out his nightly rendition of "It's Now or Never," it's safe to say most of us have spent a LOT of time in the Dining Hall. Here are a few recipes to evoke the sweet taste of home.
Carl Ziegler's Raisin Brownies
(Pictured above.) A staple of Collins committee meetings and senior recognition dinners. Their delicious decadence cannot be overstated, yet they're incredibly easy to make.
Goofballs
The snack that will live in infamy.
Jim Beeson's Blueberry-Lemon Muffins
Fresh-baked goodness from the Dining Hall.
Dining With Duncan
Passion! Love! Art! Food! Reach incredible heights of culinary elegance using only the materials available in the Edmondson Dining Hall.
What's for dinner at Collins tonight?
If you're in the neighborhood, why not stop by for some home cookin'? External link to IU's Division of Residential Programs and Services.
---