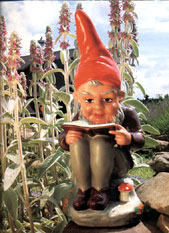 Looking for more information about Indiana University history? Here's a short reading list to get you started. If you live in Indiana, you should be able to get some of these through your local library or bookstore; if not, they are available online. Books published by IU Press can be ordered directly through their website.
Or if you'd like to relive the magic of coming to Collins for the first time, check out the list of Collins orientation books.
For a list of books written by Collins alumni, see the official Collins site.
---
Books about Indiana University
Indiana University: Midwestern Pioneer
Clark, Thomas D. 4 vols. Bloomington: Indiana University Press, 1970-1977.
The most complete history of IU to date. Volumes 1-3 contain the narrative history up to about 1970, while Volume 4 is a collection of historical documents. (You can probably do without Vol. 4 unless you're a really hard-core history buff.) An excellent book, even though it gives the wrong middle name for John Cravens.
Indiana University: A Pictorial History
Collins, Dorothy C. and Cecil K. Byrd. Bloomington: Indiana University Press, 1992. ISBN 0-253-31397-X.
Co-authored by our very own Dottie Collins, this is a great coffee table book with historical photos from all eight campuses. If you've ever wanted to learn the words to all four verses of the Alma Mater, you can find them here.
The Right Foot Guide to Indiana University
Volan, Stephen G. Tall Order Press, 2001. ISBN 1-885-38708-3.
Great for incoming freshmen or nostalgic alumni. This book has gone through several editions by different authors, but I feel sure the original author must have been a Collinsite: how else would they know about the Center of the Universe?
Being Lucky
Wells, Herman B. Bloomington: Indiana University Press, 1980. ISBN 0-253-11556-6.
Herman B Wells set out to write an autobiography and ended up writing a history of IU in the 20th century instead.
Dissent in the Heartland: The Sixties at Indiana University
Wynkoop, Mary Ann. Bloomington: Indiana University Press, 2002. ISBN 0-253-34118-3.
Traces the origins of student protest movements in the 1960s and '70s and their manifestations at IU.
---
Orientation Books
Fall orientation at Collins is traditionally themed around a book that is mailed to all of the incoming freshmen before they arrive. The books are usually short classics that lend themselves equally to zany costume events and serious academic discussions.
(Dates in parentheses indicate the year in which each book was used as the orientation theme.)
Candide (1992)
Voltaire, 1759.
Oh, the Places You'll Go (1993)
Dr. Seuss, 1990.
Dr. Jekyll and Mr. Hyde (1994 and 1995)
Stevenson, Robert Louis, 1886.
Dracula (1997)
Stoker, Bram, 1897.
Alice's Adventures in Wonderland (1998)
Carroll, Lewis. Originally published 1865.
The Hound of the Baskervilles (1999)
Doyle, Arthur Conan. Originally published in serial form in 1901-02.
The Lion, the Witch, and the Wardrobe (2000)
Lewis, C.S. Originally published 1950.
Peter Pan (2001)
Barrie, J.M. First performed in 1904, first published in 1928.
Also recommended is Peter and Wendy, the 1911 novelization by Barrie (which is sometimes published as Peter Pan).
Harry Potter and the Sorcerer's Stone (2002)
Rowling, J.K., 1997.
Charlie and the Chocolate Factory (2003)
Dahl, Roald, 1964.
Around the World in Eighty Days (2004)
Verne, Jules, 1873.
The Wonderful Wizard of Oz (2005)
Baum, L. Frank, 1900.
Charlotte's Web (2006)
White, E.B., 1952.
Robin Hood (2007)
---