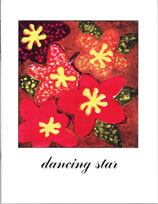 Collins has long been known as a haven for creative expression, from the darkroom to the ceramics studio to the pages of Dancing Star literary magazine. This page is a showcase for works of art and literature devoted to the Collins community.
Visual artists: Have you depicted Collins in your art? If so, we'd love to display it here. Please contact the webmistress to inquire about making a submission.
Choose a medium:
---
Drawing
Untitled (Veranda girl)
by Faja Klaus
---
Poetry
The Dishman
by Susan M. Brackney
A poetic glimpse of the Collins Dining Hall that originally appeared in the 1992 Dancing Star.
I'm a Freshman
by Kristen Murphy
Frantic denial in the face of impending graduation. Originally published in the 2002 Dancing Star.
Neighbors
by Kenny Zeiger
Life in the Collins Clubhouse. Originally printed in the 1999 Dancing Star.
---
Song Lyrics
Collins Is My Home
by Laura Hartman and Anna Hazinski
To the tune of "I Will Survive."
Collins LLC
by Laura Hartman
To the tune of "Yellow Submarine."
Freaks vs. Greeks: A Collins West Side Story
by Laura Hartman
Proposed as a concept for IU Sing but never used.
Our Favorite Things
by Laura Hartman
A celebration of the Dining Hall, sung to the tune of "My Favorite Things" from The Sound of Music.
---